Happy New Year!! Welcome to the season of annual compliance. You know, the time of year when deadlines loom for annual corporate filing. If the added workload makes you twitch, we're here to help ensure that you won't miss one single deadline.
Periodic Reporting
Most states require domestic and foreign entities to file an annual, biennial, or franchise tax reports. States may send a notice directly to the company or the company's registered agent. But some states do not send notices at all. While there are states that charge a basic annual fee, other states require payment of franchise taxes. It's important to remember that Secretary of State filings and tax filings are two different things in most states. For instance, in California Statements of Information are filed at the Secretary of State's office. But a minimum $800 franchise tax is incurred from the California Franchise Tax Board.  Moral of the story: every state is different.
Delaware, Particularly
Delaware corporations must file annual reports on or before March 1st of each year. By default, franchise taxes are assessed based on the "authorized shares method". This is the highest tax possible. When you first log-in to the Delaware franchise tax system, there may be some astronomical amount of money that is assessed to your company. When I say astronomical, I'm referring to literally tens of thousands of dollars.
Years ago, Delaware franchise tax notices were delivered on green paper. The franchise tax would be the authorized shares method. The color would drain from a business owners face when they saw the estimated franchise tax, leading to the term "green heart attack". But no worries! Delaware franchise taxes can be drastically reduced, to the minimum of $450 (2021-2022 minimum rate), by using the alternative calculation called the "assumed par value method".  The assumed par method recalculates taxes based on issued stock and gross assets as of December 31st 2021. The gross assets are taken from Schedule L of the federal tax return.
LLCs, LPs and GPs do not file annual reports. They are required to pay a flat annual franchise tax of $300 (2021-2022 rate) on or before June 1st.
Outsourcing the Headache
Managing annual report filings can be a tedious task, depending upon the number of states that your company or your client needs to file. If filings deadlines are missed, the headaches, time zap and expenses can really add up. For instance, if the Delaware March 1st deadline is missed, a penalty of $200.00 is imposed on March 2nd and interest accrues monthly at a rate of 1.5%.
The Velawcity Distinction
Velawcity handles your statutory filings with the same responsibility that we practiced when we were employed by law firms and corporate legal departments. We function as your trusted partner, therefore:
We make it our business to know your business.
As a team member, there is no need for completing time-consuming Excel spreadsheets with repetitive information for each entity.
We will track your filings from year to year on our proprietary database. We reach out 30 days prior to the filing in order to confirm current information.
We pay attention with the same care as if we were on your payroll.
Using Velawcity to manage your compliance or your client's compliance, means that you can turn your attention to more important matters and never lose sleep over worrying about the penalties of non-compliance.
As your trusted partner, Velawcity Legal Support Services will:
Audit the corporate portfolio and provide a comprehensive compliance report with current entity status from domestic and foreign jurisdictions.
Set up, track, and maintain corporate governance requirements.
Prepare and file all state reports for domestic and foreign jurisdictions.
Coordinate signatures via DocuSign or file online whenever possible.
Advance funds for established clients.
 Velawcity can also: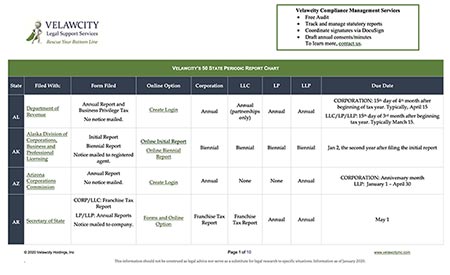 Velawcity provides on-demand support for virtual and traditional law offices and corporate law departments. Contact us to learn more about how we can help maximize operational efficiency, meet client expectations, and adhere to legal and ethical rules.
Velawcity Legal Support Services is an Alternative Legal Services Provider (ALSP) that provides competitive edge solutions to empower lawyers nationwide with high-quality, efficient and cost-effective paralegal services. Velawcity paralegals are virtual, on-demand senior paralegals, each with a minimum of fifteen years' experience working in law firms and corporate legal departments.  Whether you need assistance with year-end dissolutions, a daily addition to your legal team, periodic paralegal support, quick research or assistance on a specific project, Velawcity Legal Support Services is your cost-effective, responsive team member.
DISCLAIMER: Velawcity Legal Support Services provides services exclusively to lawyers and their clients.  Velawcity does not provide legal advice.  To determine which entity is best suited for your business, please consult a licensed business attorney or contact us to be put in touch with one of our attorney clients. 
Written by Denise Annunciata,
President of Velawcity Legal Support Services